Posted: Saturday, January 18, 2014 5:12 PM
---
Reply: click here
We assist individuals, not represented by attorneys, with meeting their court deadlines.
Has the court scheduled an evidentiary hearing/trial in your family law case?
Are you required to file a pretrial statement?
Do you need to comply with Rule 49?
Organize and deliver exhibits to your judge?
We can certainly help! Although we cannot provide legal advice or represent you in court, we can assist you with meeting your prehearing deadlines.
We may also assist you with preparing Resolution Management Statements, Discovery Requests and Responses, Disclosure Statements, Child Support Worksheets, Parenting Plans and Default Decrees. We provide package prices for our services, which include filing your documents with the court and judge deliveries.
We are certified by the Arizona Supreme Court as a legal document preparation entity CLDP #81074 and licensed by the Arizona Department of Public Safety as a private investigation business DPS #1595791. You may contact us by calling 480-516-4968.
Please feel free to view our video ad: http://youtu.be/gcvfCOKdfAg
Please also visit our website for additional information regarding our company:
www.arizonalegaldocs.com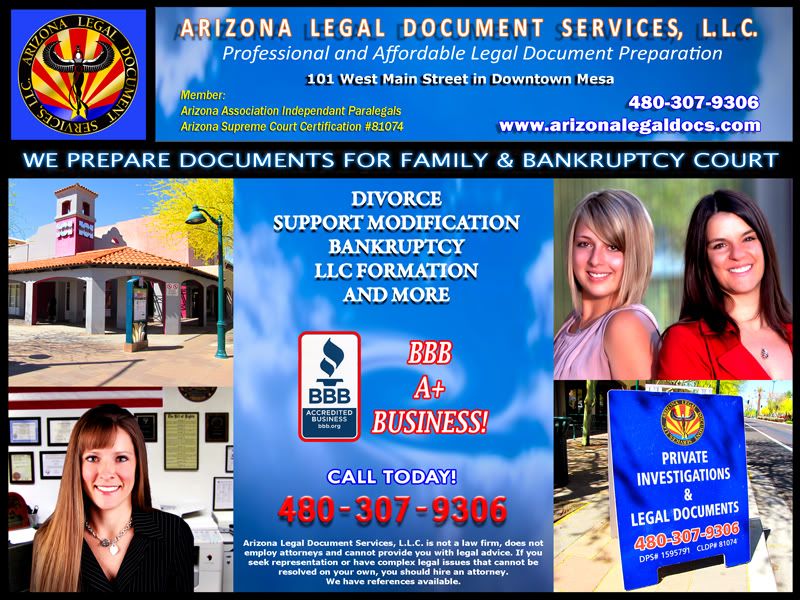 Service areas: Maricopa County, including Mesa, Chandler, Tempe, Gilbert, Queen Creek and Pinal County, including San Tan Valley
• Location: Phoenix, Downtown Mesa

• Post ID: 19674209 phoenix